"Nature Creates The Perfect Balance Of Taste And Nutrition."
---
ABOUT ALFRED VOGEL
Growing up in Switzerland, Alfred Vogel was familiar with medicinal plants and their properties from a young age. He believed health and nutrition were strongly linked and that the best quality of life could be achieved through maintaining a well balanced diet of wholesome natural foods.
Alfred Vogel's philosophy was holistic, maintaining that health is tied to living in harmony with nature, rather than against it. He advocated the balanced use of powerful natural foods to achieve optimum health.
Throughout his life Alfred Vogel was a passionate traveller. Full of curiosity, all plants and herbs of the world were of interest to him. He took every opportunity to visit other countries and cultures and learn from them.
Vogel's special interest lay with societies that retained a close relationship with nature. For example, in the USA he spent time with the Native American Sioux who showed him the purple coneflower, a traditional medicine better known as Echinacea. Vogel took seeds back with him to Switzerland, commercially cultivated the plant and introduced the properties of Echinacea to the rest of the world.
Vogel's today is based on the principle that the most mouth-watering tastes and exceptional nutrition come from the very best ingredients nature provides. In every product, we select from a wide variety of natural ingredients for amazing flavours, good health, nourishment and abundant energy.
Living well into his nineties, Vogel's entire life was dedicated to sharing his knowledge with the rest of the world. A true natural health pioneer, his work and philosophy are still recognised as unique and important contributions to naturopathy and nutrition today.
---
BRAND HISTORY
Vogel's Bread was first made in New Zealand in 1967 in a small bakery owned by Hans Klisser, in Farmhouse Lane, Auckland. The loaf was unlike anything else Kiwis had seen; a dark brick of bread with a dense, moist texture that welcomed lashings of butter, marmite or peanut butter.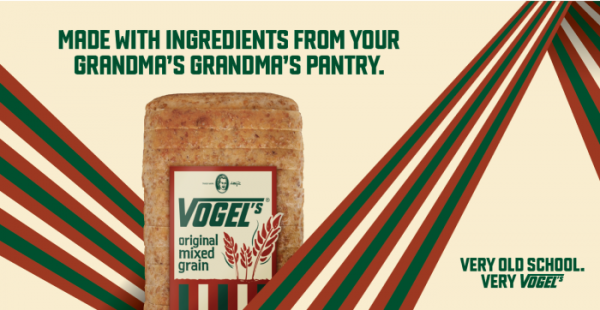 As our understanding of good food and health have changed over the years, we have finally caught up with what Vogel's seemed to know all along – nature creates the perfect balance of taste and nutrition – and you don't have to take yourself too seriously to be healthy.
Vogel's: An undisputed Kiwi Icon
The 'Homesick Kiwi's' ads from 2000 reminded us of how uniquely amazing Vogel's (and home) really was (even back in 1992 Rachel Hunter was lamenting the lack of Vogel's in LA).
More recently Vogel's has enjoyed commenting on key moments in NZ history like major sporting events and NZ Fashion Week.
Vogel's cereals were added in 2004, and gluten and dairy free breads were launched in 2011 and 2014, respectively. Vogel's Gluten Free & Dairy Free Buns were launched in 2015.
We are sure Vogel's philosophy will inspire more things to come.